AA Abbott has recently come out wit
h a trail series, containing four book in total, where each book links with one another. I was lucky enough to be given the opportunity to read all four books and today's post is all about my thoughts on the first book in the series; The Bride's Trail!
Synopsis
This great story, packed with twists and turns, begins in London's smart Fitzrovia and ends in secret tunnels below central Birmingham.
Ross has a swanky penthouse and a high-flying job in the City. When he meets Kat, a glamorous blonde croupier, he starts to plan a future. Now she's disappeared, he's devastated.
Casino boss Shaun realises it's not just Kat who's vanished - £20,000 is missing too. He wants his money back and he's after Kat's blood.
Young graduate Amy has discovered Kat's stolen her ID for a sham marriage. She can't stand Ross, but only he will help her find Kat and clear her name.
High stakes, twists, action and suspense keep the pages turning in A.A. Abbott's crime thriller, the first in the Trail Series.
My Thoughts
A few chapters into the book and I was already engrossed in a few of the main characters lives! The chapters themselves are really short, which is what I like, it keeps the story fresh as every chapter is on another person's life and the situation that they are going through.
Just within the first thirty-one pages, you meet a handful of the main characters that begin to introduce you to their lives, each person linking with someone in one way or another. At the start, I forgot who was related to who, but continuing with each chapter everyone became so memorable with their unique characteristics that it wasn't an issue.

Throughout the story I began drawing my attention to Amy, she seemed like the innocent one out of the bunch, the more likeable and 'normal' one that ended up finding herself in a rather unfortunate married situation thanks to Kat her flatmate. (As I'm writing this I've only just realised why the book is called 'The Brides Trail'...!!) But when Ross came into the picture, they found themselves working together to track down Kat and their relationship just kept blossoming; I was very intrigued and involved with it that when I knew his intentions all along it kind of hit me a little! I do hope that in the next few books something may evolve between them but I really doubt it with the number of twists that happen between them all.
The book involved a bit of everything from murder to romance, crime and family relations, it was fascinating to read and hear about all the character's different lives and how they all intertwined with each other.
All in all, it was a pleasant read and I am excited to read the following book in the series.
The end of the book leaves you at the perfect point to continue reading her next book in the trail series, as once you finish you instantly want to know what happens next in their lives, what the next twist is going to be.
The Bride's Trail is a short but packed first book in the series with deception and drama throughout, whilst the plot and characters make you think twice before making any assumptions about who to trust or like.
Meet The Author
English thriller writer AA Abbott's real name is Helen Blenkinsop.
She loves city life, having lived and worked in London, Birmingham and Bristol. Her crime thrillers, set in Birmingham and London, sizzle with suspense, twists and the evils of office politics.
Helen's books are available in a dyslexia-friendly large print as well as standard paperback and Kindle editions.
Her Trail Series follows the fortunes of glamorous blonde Kat White, a party girl who finds her purpose making vodka, shrewd businessman Marty Bridges, and manipulative East End crime lord Shaun Halloran.
Follow The Blog Tour
Be sure to check back on Twitter to find everyone else's thoughts on this book!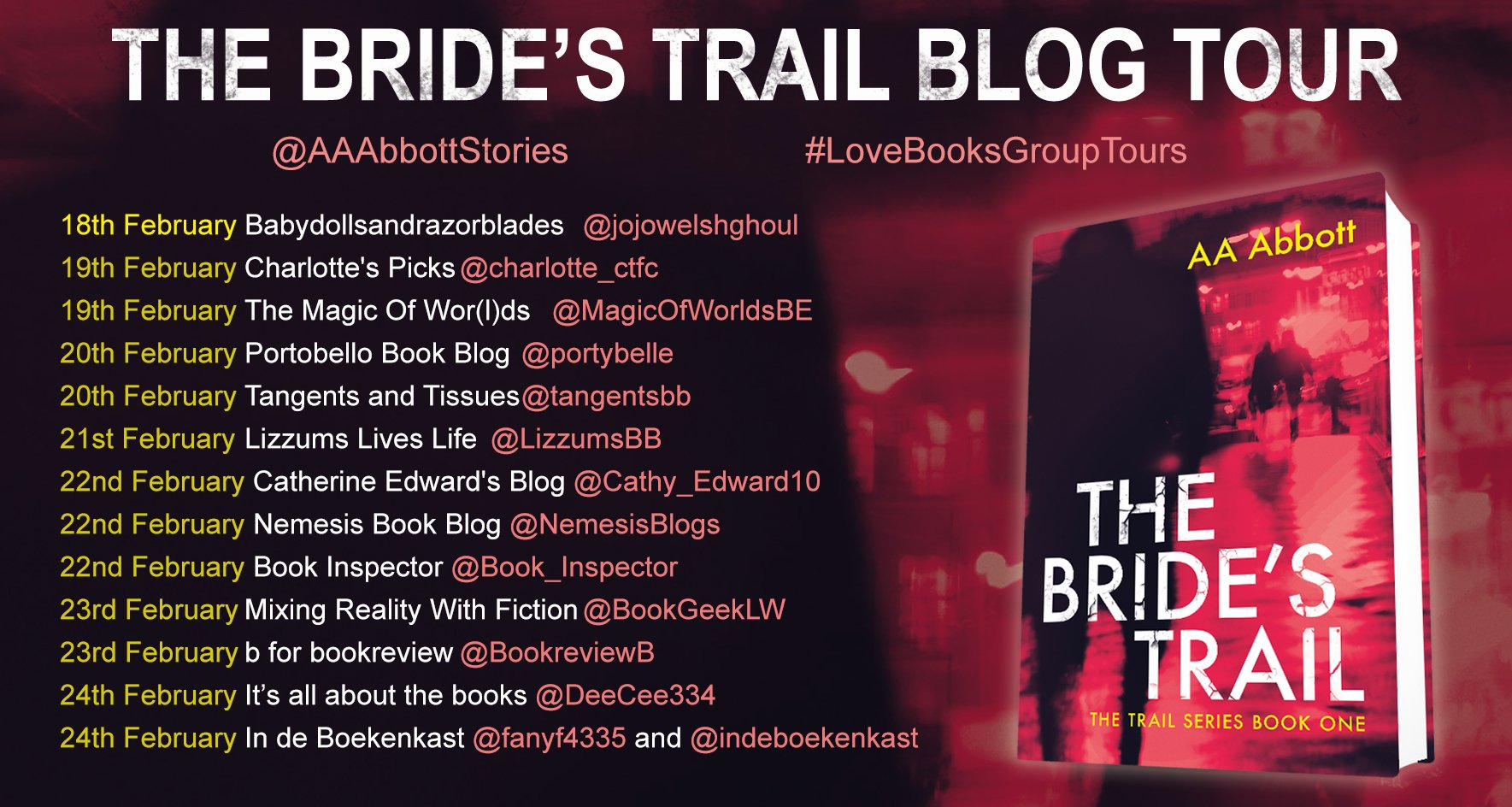 So, what are your thoughts on The Bride's Trail? If you want to find out more then be sure to pick up the book for yourself as it
is available on
Amazon
.
Will you be going to pick this up now that you've read my review on it
? Thanks for reading,
Disclosure
(Thi
s book was sent to me on behalf of the book tour, however, all opinions and views are my own.)