The third book in the Trail series has not disappointed one bit! It's funny because before I read the books I never knew how the title would link to the storyline but then you have that 'ah duh' moment when it becomes so obvious.
Synopsis
Shaun knows who put him inside - and he wants to make her pay...
Shaun Holloran wouldn't be in prison if glamorous Kat White hadn't taken his gun. Pictures of the stunning blonde are plastered all over his cell. As soon as he can escape, she's dead. But with his criminal empire crumbling, he can't trust anyone.
Kat, panicked by poison pen letters, has nowhere to turn. Her parents are dead and her brother's ill. Even her sexy new business partner may not be what he seems. When she receives life-changing news, vodka is the only answer...
A tense crime thriller with plenty of twists, "The Grass Trail" races through Birmingham, London and the former Soviet Union - tempting you to turn each page.
My Thoughts
From knowing the characters thanks to the previous books in the series, my love for Kat grows, even though she's such an up and down, you never know what you're going to get with her which I quite like. As for Marty, I still am unsure on what to think about him, he has his good traits and his bad but he is much better than Shaun; I really disliked him throughout the whole book. He was featured quite heavily in this book, which I totally understand as he is in jail thanks to one lady...Kat yes you, but I'm hoping the story turns back around in the next book to Kat, Marty, Tim and Erik.
As Kat tries to get her fathers company back she comes up with the incredibly clever idea of creating her own vodka company, one that is even better than snow mountain; is that even possible?! All she needed was an investment, a place where she could distil and make the vodka and help to get the name out there but the only way she could do this was by getting close to Marty's son, Tim. Now Kat and Tim seem to get quite close as the book progresses, which I'm all for as I love a good bit of romance in thriller novels. I am very excited to see where their relationship goes in the next book, will she get married properly this time, will he be an investment in her future or is this just a plot to get Marty on her side. Honestly, it could go any way, I can never tell with Kat!
The Grass Trail is a fantastic third book in the Trail series with Kat's ambition soaring as she takes on a new route and kindles new relationships but is this only to get what she wants in the long run?
F
ollow The Blog Tour
This is actually the third book in the trial series that AA Abbott has produced.
Be sure to check back on Twitter to find everyone else's thoughts on this book!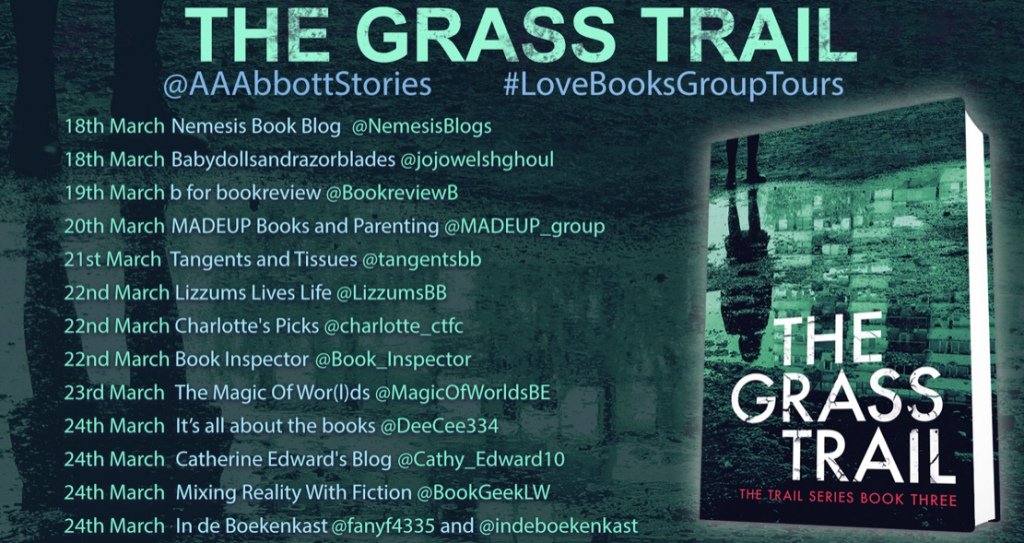 However, if you are interested in reading the first or second book then you can read my thoughts below:
So, what are your thoughts on The Grass Trail? If you want to find out more then be sure to pick up the book for yourself as it
is available on
Amazon
.
Will you be going to pick this up now that you've read my review on it?
Thanks for reading.
Charlotte x
Bloglovin /
Twitter
Disclosure
(Thi
s bo

ok was sent to me on behalf of the book tour, however, all opinions and views are my own.)